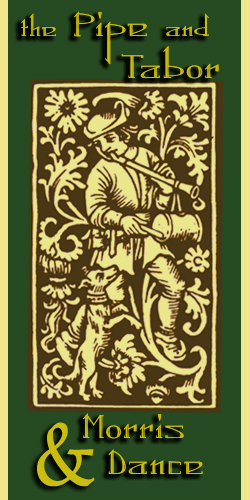 "Pipe and tabor is a wonderful pipe and drum combination played by a single musician. This three-hole pipe —a whistle flute with a fipple mouthpiece like that of a recorder or pennywhistle— allows the player to execute with one hand sprightly tunes with a distinctive vigour, authority and charm. Add the other hand playing simultaneous percussion, and the coordination of expression resulting from a single player, makes it an ideal dance accompaniment instrument: a one-man band."

This is the introduction to Dick's The Pipe & Tabor Tutor, the definitive instructional book for the English style pipe, with play-along CD and Tune Book. First published in 1988 and completely revised in 2005, it is now available through Sweetheart Flute Co., Lark in the Morning, Kelischek Workshop for Historical Instruments, and The Early Music Shop (UK).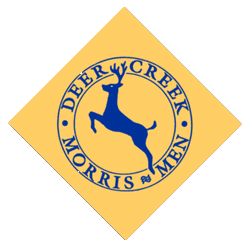 Deer Creek
2009 Performance Season

Friday, May 1, 5:30a - Palo Alto Baylands, May Day morning

Saturday, May 2, 1:00p -
Revels May Day, Oakland Zoo

Sunday, May 3, 2:00p - Revels May Day, Pelican Inn, Muir Beach

Saturday, May 9 - Palo Alto Day-of-Dance and BBQ - noon (tentative)

Sunday, May 10, 1:00p and 2:45p - Ardenwood Historic Farm, Fremont (tentative)

Saturday, May 30, 11:00a to 2:00p - Chocolate and Chalk Festival, Berkeley (tentative)

Sunday, May 31, 12:30p - Whitsunday Grace Cathedral,
San Francisco

Sunday, May 31, 12:00p to 4:00p - Black-and-White Tour

Saturday, June 6, 11:00a(?) - Seabright Santa Cruz Day-of-Dance

Sunday, June 21, 6:00p to 9:00p - Revels Summer Solstice

Saturday, July 4 - Berkeley Marina (tentative)

Sunday, July 18, 11:30a? to 7:00p? - Apple Tree Morris Marin Tour

Friday-Sunday, August 14-16, Upsc'ale, the 2009
California Morris Ale

http://rgoldman.org/morris/dcmm/gigs.htm
There is an international organization, The Taborers Society, devoted to the instrument. |www.pipeandtabor.org | We hold annual gatherings, so far all in England. The 2006 International Pipe & Tabor Festival was held in York, in conjunction with the York Early Music Festival.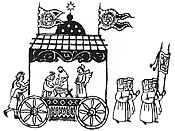 The Taborers also played within the York Mystery Plays, medieval dramas that have been revived in modern times, and are presented every four years. |www.yorkstories.fsnet.co.uk/york-mystery-plays|





---

Deer Creek Morris Men of San Francisco Bay


The morris is a tradition of display dances, with some aspects of ancient ritual and roistering associated with them. Mainly performed by teams, occasionally as a solo jig, the morris involves intricate figures and stepping, and lively high capers. In the Costwold style, which Deer Creek specializes in, the dancers wear sets of 25 bells on each leg, and embellish the dance with sticks or waved hankies. England is the home of these traditions, the origin of which is murky enough to delight folklorists; there are well over 200 morris teams in North America currently. The pipe and tabor is the oldest traditional accompanying instrument.




2005—The Deer Creek at Union Square, San Francisco.



Dick is the Squire (manager) and Fool
of the Deer Creek Men.





PiperHQ Home &nbsp&nbsp | &nbsp&nbspPiperHQ Studio &nbsp&nbsp | &nbsp&nbsp"Across The Pond" Ceilidh Band
&nbsp&nbspGreenman Portrait &nbsp&nbsp | &nbsp&nbsp Dick's Scrapbook &nbsp&nbsp | &nbsp&nbsp Contact Dick Bagwell


&nbsp